Oh WoW!® Testimonials
"I love Oh Wow lip balm! I have dry lips and have tried lots of lip balms over the years including organic lip balms. Oh Wow is by far the smoothest and most silky on your lips. You also have lots of choices of flavors to choose from. I would highly recommend trying them!"
A. Andrews, Durham, NC
"I wanted to surprise my girlfriend with a quality lip balm since she was constantly looking for a better solution. We just celebrated our 4th wedding anniversary and she won't go anywhere without her Oh Wow lip balm! Thank you for making such a great product."
Wayne H., Puyallup, WA
"I don't remember where I got my first tube of your product - perhaps picked it up at some store or was given it as a gift? But it is the best lip balm ever! So when it finally ran out recently I looked on the tube to see what it was so I could find it to order more. I was happy to find your website. I have a lot of lip balm tubes laying around from other makers but none of them compare. I defintely wanted more of yours. Thank you."
Tracy C., Madison, WI
"I have been using Oh WoW lip balms for years since I came across their booth at a local festival. I've never used anything else since and continue to order year after year. I keep one in my car, in my nightstand, make-up bag and purse! Thanks for the amazing customer service, product and quick shipping!"
Angie B., Iron Station, NC
"Just stocked up again with the 12 pack; I get a little panicky when my stash is low! These are the perfect texture--long lasting and no drag. Best of all, they have no flavor or sweetener, only scent! This is very hard to find. They make a cute gift topper or add-on. I give it away regularly because everyone needs this lip balm!"
Kathleen D., Quakertown, PA
Wholesale & Retail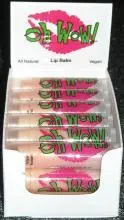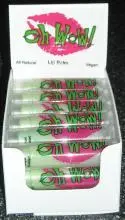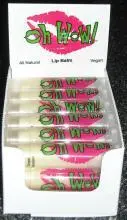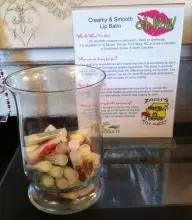 The white boxes as seen above, left, are our POP boxes.
Many retailers take displays to a vertical approach as seen above, right, using a clear display (candle holder, etc.) and our "What Makes Us Different" flyer in a plastic holder.
Please contact us with your interest and/or questions. Include the name of your store, address, phone number and contact person.
Email us at: [email protected]
Upcoming 2023 shows
Saturday, October 7 - 9am - 6pm
Asheboro Fall Festival, Asheboro, NC
Downtown Asheboro on Fayetteville Street

Saturday, October 14 - 11am - 5pm
Caravan of Bands, Barker-Lane Stadium (Blue Lot), Campbell University, NC

Saturday, October 21, 2023 - 10a - 4p
Holly Fest
Villages of Pinehurst, NC

Saturday, November 4 - 9am - 3pm - booth #19
St. Andrew the Apostle Catholic Church
3008 Old Raleigh Rd, Apex, NC

Saturday, November 11 - 9am - 3pm
St. Michael's Craft Fair
St. Michael's Catholic Church
804 High House Road, Cary, NC

Saturday, December 2 - 9am - 5pm &
Sunday December 3 - 12pm - 5pm
Holly Days
Sanderson High School
5500 Dixon Drive, Raleigh, NC

thank you for your business